Well it's Monday again people and I've decided to play along at
lowercase letters
for Miscellany Monday!!!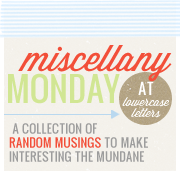 1. It's a stormy Monday over here! I just love thunderstorms. Last night it was lightening so bad our lights blinked and my exercise
bike started to beep and go off. The weird thing is my bike is battery operated!!! Crazy right!
2. We've finally decided to sell our pool table. We want to turn our garage into a play room for the boys. So if ya want one and can come pick it up I'll give you a real sweet price on it!
3. I hate it, HATE IT, when Justin isn't home. I understand that he has to go to work or we would be out on the streets and starving, but for some weird reason I just don't like it here without him. Funny?! I know, he's only at work for 8 hrs, but it just seems soooooo long!
4. Just two questions...Why are boys so stinky? Why are boys so messy? UGH!!!
5. I've started to take the Woman's One A Day Vitamins Energy and so far I'm loving them. I've noticed I'm not that sluggish anymore! Woohoo!!!

For more Miscellany Monday head over to check out
Carissa's blog
and link up. Hope y'all have a happy Monday!