Today over at
The Undomestic Momma: Top 2 Tuesday
it's tell us 2 random things about yourself!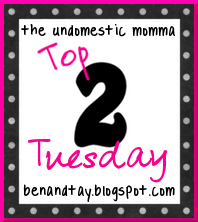 1) I am so not a morning person. I'm not even myself unless I have 9 or more hours of sleep. I hate being woken up and watch out because if you do I might bite your head off!!! Sersly! Ask Justin or the boys!
2) This one is a little funny and embarrassing! When I get a little tipsy and start taking pictures I always stick my tongue out. I don't know why I do it. It just happens. I guess it's a tell-tell sign I'm feeling the drink!!! Ha!